EcoCoconut
Multi Purpose Bottle Brush
Everyday washing up & cleaning essentials
When you have a reusable bottle, it can be quite
a job cleaning it thoroughly! Our multipurpose plastic-free
bottle brush will make it so much easier to clean all types
of bottles. The EcoCoconut bottle brush is extremely durable
and sustainable. Perfect for zero waste and eco-friendlyliving:
ditch the plastic bristles and go for natural non-toxic instead!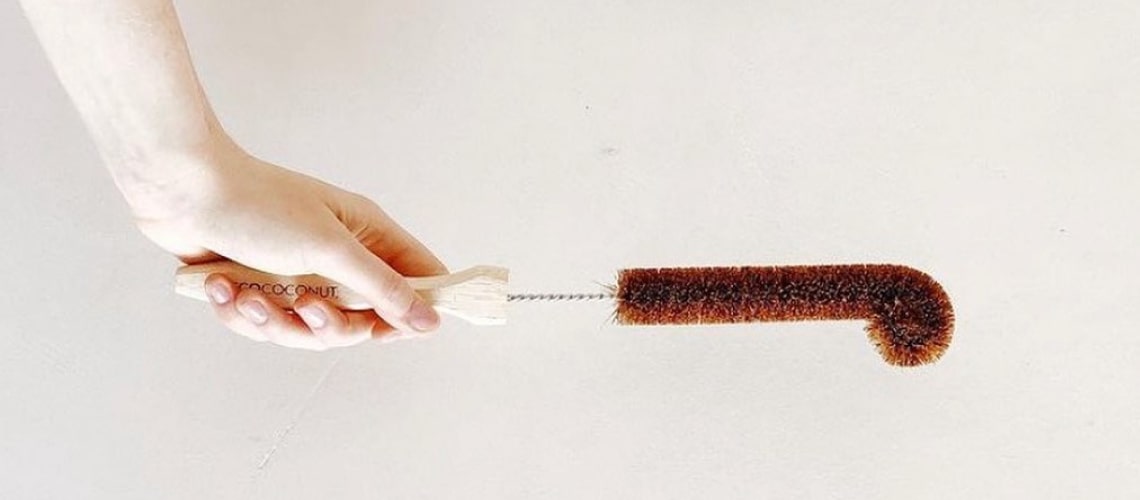 EcoCoconut Multi Purpose Bottle Brush
Making your home and our planet a little cleaner and greener!
Serves multiple purposes
Measuring 13.2 inches long, this eco-friendly bottle brush works brilliantly to clean bottles of all shapes and sizes! Whether it's a baby bottle, wine glasses, or reusable drinking bottles, they will come up shining like new.
Effective and durable
The simple and effective design delivers precision cleaning capabilities designed to get into hard to reach places. As the fibres are naturally antibacterial and highly durable, the brush tends to last longer and is therefore a better value for money.
Non-scratch and chemical-free
Being non-scratch, it is also great for wine glasses and stainless steel flasks. However, coconut fibre is not suitable for some plastic bottles, as scratching may occur. The bristles on this brush are also naturally antibacterial, free from toxic chemicals.
100% eco-friendly
The EcoCoconut Brush is made ethically in Sri Lanka using coconut fibers which are biodegradable, non-toxic, and completely plastic-free. The packaging and shipping materials are 100% plastic-free as well, including labels and and tape.
Sustainably sourced
materials only
Join the plastic-free revolution!
The EcoCoconut Bottle Brush is made with FSC (Forest Stewardship Council) certified recycled Rubber trees grown in a plantation and replanted at the end of their life, with the wood used for our brush handles. The bristles are made from sustainably farmed coconut husk which is the outside of dried coconuts.